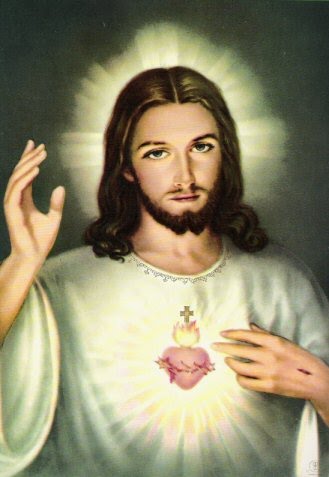 "Behold the Heart that has loved men so much that It has spared nothing, even to exhausting and consuming Itself, in order to testify to them Its love. But in return I receive from the greater part of mankind only ingratitude, by reason of the contempt, irreverence, sacrilege, and coldness shown Me in this Sacrament of Love." – Jesus to St. Margaret Mary 
In the Catholic church, we celebrate the Sacred Heart of Jesus in June. And so the Church dedicates the entire month to the Sacred Heart. This devotion can be traced back to the Apostles.
St. Francis de Sales and St. Jane Frances de Chantel founded the order of the Daughters of the Visitation in 1671. They promoted devotion to the Sacred Heart. St. Margaret Mary entered the order that first year. Between the years of 1673 and 1675, Jesus appeared to St. Margaret Mary and revealed His Divine Heart to her.
During these apparitions, Jesus told St. Margaret Mary how to honor His Sacred Heart. He also made 12 promises to those who follow this devotion. They are:
1. I will give them all the graces necessary in their state of life.
2. I will establish peace in their homes.
3. I will comfort them in all their afflictions.
4. I will be their secure refuge during life, and above all, in death.
5. I will bestow abundant blessings upon all their undertakings.
6. Sinners will find in my Heart the source and infinite ocean of mercy.
7. Lukewarm souls shall become fervent.
8. Fervent souls shall quickly mount to high perfection.
9. I will bless every place in which an image of my Heart is exposed and honored.
10. I will give to priests the gift of touching the most hardened hearts.
11. Those who shall promote this devotion shall have their names written in my Heart.
12. I promise you in the excessive mercy of my Heart that my all-powerful love will grant to all those who receive Holy Communion on the First Fridays in nine consecutive months the grace of final perseverance; they shall not die in my disgrace, nor without receiving their sacraments. My divine Heart shall be their safe refuge in this last moment.
St. Margaret Mary was a cloistered nun. Our Lord brought St. Claude la Columbiere, a Jesuit priest, to her to be her Spiritual Director. He believed what St. Margaret Mary told him and so did her superior. Widespread propagation of the devotion in the Universal Church began. From that time, the Jesuits became the chief propagators of devotion to the Sacred Heart.
On May 8, 1873, the devotion to the Sacred Heart was officially approved by Pope Pius IX. On July 21, 1899, Pope Leo XIII urged that all bishops observe the feast in their dioceses. We celebrate the Feast of the Sacred Heart on the Friday following the Feast of Corpus Christi.
If you would like to learn more about the Sacred Heart of Jesus Devotion go here.
A PRAYER OF REPARATION TO THE SACRED HEART OF JESUS
Adorable Heart of Jesus, glowing with love for us and inflamed with zeal for our salvation. O Heart that understands the misery to which our sins have brought us, infinitely rich in mercy to heal the wounds of our souls, behold me humbly kneeling before You to express the sorrow that fills my heart for the coldness and indifference with which I have so long returned the numberless benefits which You have bestowed upon me.
With a deep sense of the outrages that have been heaped upon You by my sins and the sins of others, I wish to make reparation to Your most Sacred Majesty. It was our sins that filled Your Heart with bitterness; it was the weight of our guilt that pressed down Your face to the earth in the Garden of Olives and caused you to die in agony on the Cross. But now, repentant and sorrowful, I implore Your forgiveness.
Adorable Heart of Jesus, Source of true consolation and ever merciful to the penitent sinner, impart to our hearts the spirit of penance that we may be sincerely sorry for our sins. Pardon them, O Lord, in Your mercy, and let all who have sinned against You in the Sacrament of Your love be converted and return to You. Deliver us from our sins. And in order to repair the sins of ingratitude by which we have grieved Your most tender and loving Heart, may we love and honor You in the most adorable Sacrament of the Altar, where You are present to hear and grant our petitions and to be the food and life of our souls.
Merciful Jesus, be our Mediator with Your heavenly Father, whom we have so grievously offended. Help us to amend our ways. As Your Sacred Heart is our refuge and our hope when we have sinned, so let it be the strength and support of our repentance, and nothing in life or death shall ever separate us from You. Amen.